Do you love playing cards with your family or friends? We're excited to offer you the perfect deck to bring on your next game night! Introducing the 24K GOLDEN POKER CARDS.
24K Golden Poker Cards is made of HIGH-QUALITY GOLD FOIL material and DESIGNED in GOLD COLOR for a DURABLE HIGH-CLASS CARD GAMING EXPERIENCE.
It has a SILVER TRACE of the TRADITIONAL CARD DESIGN that can be USED to ANY STANDARD 52 CARD GAMES. It has a 2 GAFF CARDS for MAGIC TRICKS. It has the MEASUREMENT of a STANDARD POKER CARDS.
24K Golden Poker Cards BRINGS out GOLDEN SHINE in your card games. It is HIGHLY FLEXIBLE. It is SCRATCHPROOF and WATERPROOF. It is DURABLE and does not easily wear off as it has a LONG-LIFE SPAN.
It is a PERFECT GIFT to your family . friends . and loved ones who are into playing cards. It is IDEAL for Game Nights . BBQ Parties . Get Togethers . Camping Trips . Beach Parties and other occasions.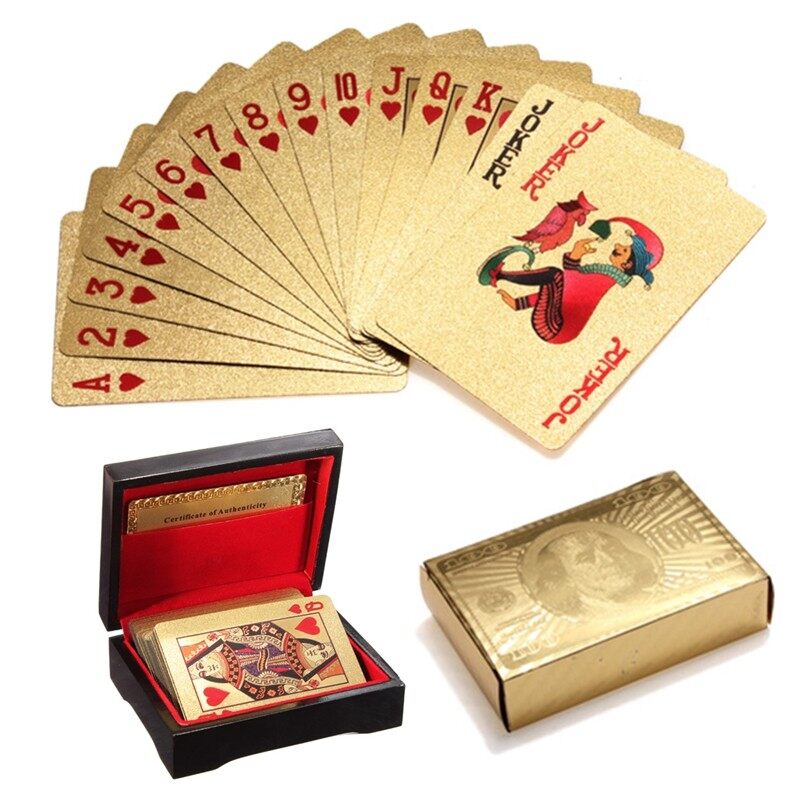 Including 52 playing cards . 2 jokers.
Playing cards size 2.2″ x 3.4″
Deck weight is about 0.25 lb
Style: American Dollar . European Dollar . Lattice
PACKAGE INCLUDED: