Need a helping hand while you are soldering a circuit board?
Well . you do not have to ask for help . this innovative design allows you to feed the tin wire automatically!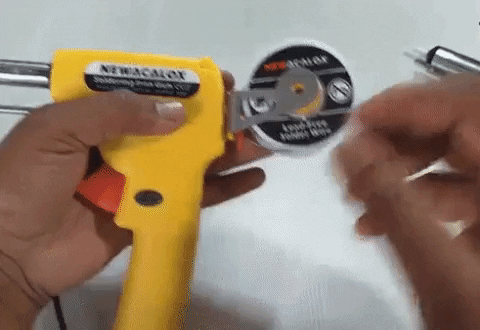 Introducing theAuto Feed Soldering Iron .the solderingiron that comes with a tin wire holder . as well as a tin wire feeder. As you squeeze the trigger on the soldering iron . the mechanism inside the solderingiron will push the soldering wire out hence provides you with a perfect soldering wire control.
Alloy tip . fast heating . durable.
Natural mica heating core . heating up fast . long life . easily assembled and dismantled.

High-quality

ABS plastic shell .holding comfort .reduces hand fatiguefor long-term operation.
Tin wire spool can be disassembled . easy to use.
With power indicatorto ensure safety.
Flexible power cord.
It can be operated by one-handed . to view the tin situation at any time to reducemistakes.
SPECIFICATIONS
Input Voltage: 220V
Output Temperature: 300-400 Degrees Celsius
Temperature Stability: 1 Degree
Output Power: 60W
Dimensions: 19*18cm
PACKAGE INCLUDES
1 xAuto Feed SolderingIron
NOT SOLD IN STORES!
ADD TO CART NOWfor50% OFF
Please note that Shipping Time will take approximately 3-4 weeks.
SHIPPING INFO
How long will order processing take?

Orders typically take up to 7 days to process before they ship ?C excluding weekends and holidays. During the holidays . processing times may take up to 14 days. You will receive an email confirming your purchase with the shipping tracking number when your order is shipped out.
How long will it take for me to receive my item?

US orders will be shipped via USPS. Shipping methods for international orders will vary based on the shipping address provided.
Transit time to the US: 5-20 business days
Transit time to international: 10-45 business days
An order takes 3 weeks on average to ship.
There are circumstances that are out of control (natural disasters . holidays . weather . etc) that may cause shipping postponements. While most packages will arrive on time . there may be circumstances and delays that our carriers may experience. For this reason . we do not guarantee the exact delivery time; delivery issue is the responsibility of the shipping company.
Please note that Shipping Time will take approximately 3-4 weeks.
RETURN POLICY
What is your return policy like?

We'd like to think that every customer leaves a happy customer (and we have good reason to!) but in the event that you don't . we offer 30 day money-back guarantee . no questions asked! Just our way of saying thank you for your trust!