Simple And Effective Fitness Equipment!
Please buy it now! Buy it! ! Buy it! ! !
Then become stronger and more charming! ! !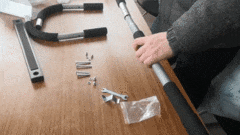 You Can Use It Without Assembly?
YouCan Hang It On The Door FrameOrAisleAndUse ItWithoutPunching...
CanWithstand A Maximum WeightDurable Hooks Made Of Strong Reinforced Steel To MaintainStability During ExerciseAnd EnsureSafe Training Progress
TheTop Of The Device Is Equipped With Foam Cushions .Which AreNon-Slip And Comfortable.
Multipurpose Simple And Effective Fitness Equipment .Suitable ForHomeAndGym.
Ideal Pull-Ups . Push-Ups . Sit-Ups . Sit-Ups . Etc.To BuildStrong Upper Body And Abdominal Muscles.
Features
Weight capacity: 250 pounds
Suitable door width: 24-32 inches
Used To Do Chin-ups . push-up . sitting Etc.
Three grip positions use the neutral . lever to hold against the door . so there is no screw. No damage to the door. Install in seconds.
Strengthen your back . biceps and other upper body muscles from the comfort of your living room or bed with the exercise bar.
Specifications
Application :Door Horizontal Bar
length :above 45cm . below 93cm
material :spring steel tube . high-density non-slip foam
Width :25cm
Product Includes
1 xDoor Hang Pull Up Bar