Luminous Garden Pebbles are an eco-friendly stone replacement to give your Home and Garden a unique look like no other.Night Stones require absolutely nomaintenance . no batteries or work other than placing them where ever you like!
Give your household a look that'sneverbeen seen before!Put themanywhere . flower beds . fish tanks . swimming pools or pathways . they give any area a unique glow.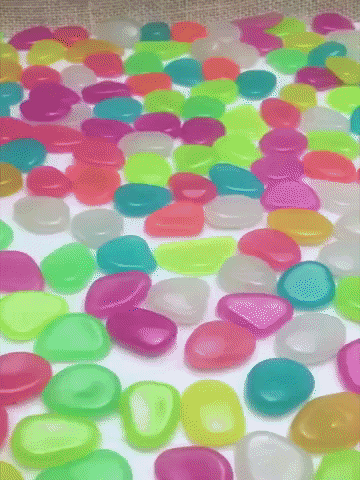 100 Pieces Multicolor Pack seen above!
Product Specifications:

Made of Luminescent and Synthetic Resin(Non-Toxic)!
No harmful materials are used in the process of creating them!
Sunlight or any light sourcewill make them glow all night.
Provides light for safety precautions on pathways at night time!
Perfect for indoor or outdoor use!
Specifications:
105 grams for 100pcs
Size: 1 inch x 1 inch