If you like to build your ownfantasy space . this DIY dollhouse is the best choice for your hobby. Complete your collection with thisamazing Mini DIY Box.
You need to assemble it by yourself. The inside of the package contains several bags of raw materials and building instructions. Spend some quality time and build a bit of your dream world.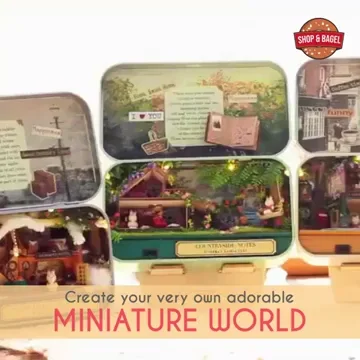 Accurately speaking . the cute house is not designed to be played with . but collectible buildings or home decoration after finished. It come with parts . need to assemble DIY. The assembly is suitable for people older than 14 years . a great way to communicate with teenagers or adults and perfect project for spending time.

High quality and excellent designed

match its price: Materials are of good quality . the furniture and other wooden pieces are precisely cut so that they fit together correctly. LED light . plants . ornament . furniture are quite realistic and cleverly designed . there are well worth the price if you are looking for pleasure.
English Instructions: English manual with detailed and colored pictures will guide you how to do step by step. We want to encourage you it easy to assemble just a little patience. Further more . YouTube video teaching how toassemble the entire miniature . just search "DIY dollhouse".
A

very perfect gift and collectibles

for who enjoy crafts and miniatures . the box itself looks as a present – very nice looking! You could do it by yourself to make the gift more meaningful. Might be challenging for a first time builder . but you will get the joy after you have finished it.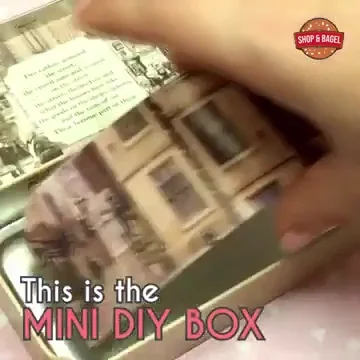 "
My first DIY miniature project and it ended up perfect! The instructions were super easy to follow and detailed.
I did check to make sure I received every bits . and they packed/fullfilled perfectly . not a single thing gone missing. I would purchase again" – Elise . 27 . User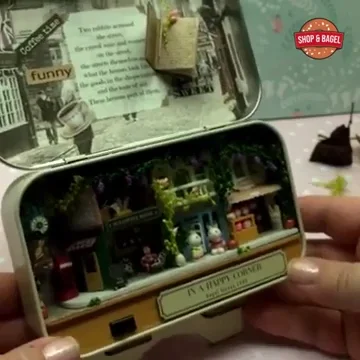 SPECIFICATIONS
Size: 8.4cm x 14.3cm x 2.6 cm
PACKAGE INCLUDES
1 xMini DIY Box (Battery and Glue not included)
NOT SOLD IN STORES!
Please note that Shipping Time will take approximately 3-4 weeks.
SHIPPING INFO
How long will order processing take?

Orders typically take up to 7 days to process before they ship ?C excluding weekends and holidays. During the holidays . processing times may take up to 14 days. You will receive an email confirming your purchase with the shipping tracking number when your order is shipped out.
How long will it take for me to receive my item?

US orders will be shipped via USPS. Shipping methods for international orders will vary based on the shipping address provided.
Transit time to the US: 5-20 business days
Transit time to international: 10-45 business days
An order takes 3 weeks on average to ship.
There are circumstances that are out of control (natural disasters . holidays . weather . etc) that may cause shipping postponements. While most packages will arrive on time . there may be circumstances and delays that our carriers may experience. For this reason . we do not guarantee the exact delivery time; delivery issue is the responsibility of the shipping company.
Please note that Shipping Time will take approximately 3-4 weeks.
RETURN POLICY
What is your return policy like?

We'd like to think that every customer leaves a happy customer (and we have good reason to!) but in the event that you don't . we offer 30 day money-back guarantee . no questions asked! Just our way of saying thank you for your trust!