It is PROVEN that SWADDLING can be an EFFECTIVE technique to help
CALM INFANTS
and
PROMOTE SLEEP
. A SNUGGLY WRAP around the BABY'S BODY can RESEMBLE the MOTHER'S WOMB and help SOOTHE the newborn baby.
That is why we are happy to OFFER you a PERFECT PRODUCT for the MOMMYS and DADDYS . introducing the MOM AND DAD POCKET BABY SHIRT.
Mom and Dad Pocket Baby Shirt
is a REVOLUTIONARY
SKIN to SKIN BONDING
T-SHIRT for FATHER . MOTHER and CHILD. It is an EASY to WEAR SHIRT with BUILT-IN BABY WRAP to PERFECTLY CUDDLE your BABY.
It is made of HIGH-QUALITY POLYESTER FIBER and COTTON material making it
SUPER COMFORTABLE and BREATHABLE
for the BABY and PARENT.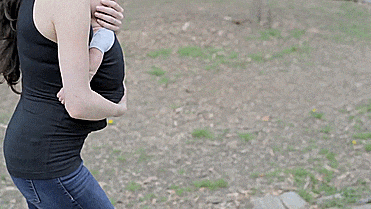 Mom and Dad Pocket Baby Shirt
has a
deep pocket
for baby-carrying. It can carry up to
15kg.
So no worry that your baby will fall down from the pocket.
Mom and Dad Pocket Baby Shirt
is SPECIALLY DESIGNED to be COMFORTABLY FIT. It is LIGHTWEIGHT. It is SAFE to the SKIN. It is STYLISH as it can be a
DAILY WEAR.
It comes in 3 DIFFERENT COLORS . Blue . Black and Grey . to SUIT your STYLE.
PRODUCT SPECIFICATION:
Style:Female .Male . Long Sleeve . Short Sleeve
Colour: Black . Grey . Blue
Material: Polyester fiber (polyester) / Cotton
Male & Female Long Sleeve Size:
Male & Female Short Sleeve Size:
Package Included:
1xMom and Dad Pocket Baby Shirt