IT'S CRIMINAL when electronics interfere with human interaction!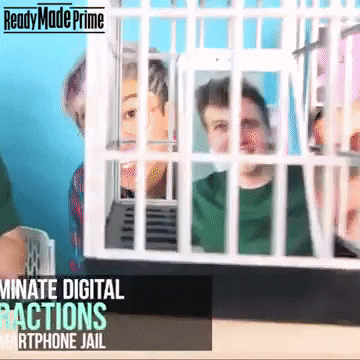 Is mobile phone use robbing you of quality time with your family . stealing your suppers' thunder . and killing human interaction around your home? Guilty on all 3 counts? Then its time those phone culprits spent some hard time in this Phone Lock-Up for Adults!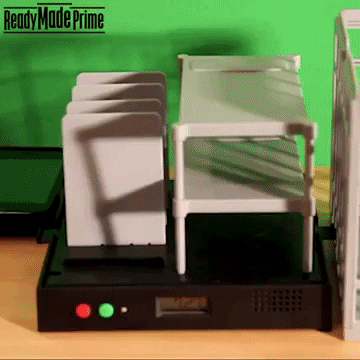 Like the name will tell you . this is a jail that you can use to lock away your family's or friends' phones . so you can actually have face-to-face conversations.You can also use it as a funway of controlling your kids' access to their phones.
It's an easy-to-assemble . plastic prison that's specially designed to fit phones. The base is slotted so the phones stand up . and you can fit up to 6 phones in this jail . so you won't have to worry about freeing phone convicts due to overcrowding!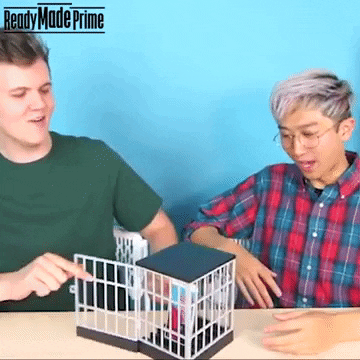 It's high time that phones stopped robbing you of your family time by serving some time of their own. So . put your household's phones under (included) lock and key and get your mobile phone jail today!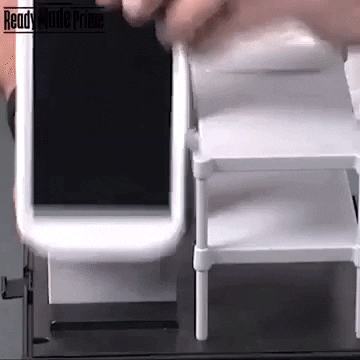 "This is an absolutely incredible product. I so so so love it. It is a quality product and is a fun concept. Perfect for when the phone needs to be in time-out for punishment or to just set it aside." – Thomas . 54 . USER
GET FAMILY TIME BACK – Cutting quality family time short is also a crime – and one of the worst. Restrict access to screen time (plus other toys or games) at meals and until chores and homework are done – your kids will be more efficient which leaves more time for the most important thing! FAMILY!
FUN GIFT IDEA – Whether for your friend . spouse . or kids . the phone addict in your life will get a huge laugh out of our famous novelty gag toy. Unplug and enjoy some company! These days every home needs a phone jail.
FIX SELF CONTROL – Keep getting distracted/need to get something important done? Remove the temptation . lock up that phone . and give a friend the key! You'll be amazed at how much you can get done with a focused . one-track and focuses brain. The phone jail cell is Tamper Proof to remove temptation.
HOLDS UP TO 6 LARGE PHONE – The phone lockbox has a slotted bottom for smartphones to stand up neatly and includes tamper-proof bars + a padlock and 2 keys.
SPECIFICATIONS
Material: ABS . PP . Plastic . Iron

Length: 15 cm / 5.91 "(approx.)

Width: 13 cm / 5.12″ (approx.)

Height: 19 cm / 7.48 "(approx.)
PACKAGE INCLUDES
1 x Phone Lock-Up for Adults
1 x Lock
1 x Key
NOT SOLD IN STORES!
Please note that Shipping Time will take approximately 3-4 weeks.
SHIPPING INFO
How long will order processing take?

Orders typically take up to 7 days to process before they ship ?C excluding weekends and holidays. During the holidays . processing times may take up to 14 days. You will receive an email confirming your purchase with the shipping tracking number when your order is shipped out.
How long will it take for me to receive my item?

US orders will be shipped via USPS. Shipping methods for international orders will vary based on the shipping address provided.
Transit time to the US: 5-20 business days
Transit time to international: 10-45 business days
An order takes 3 weeks on average to ship.
There are circumstances that are out of control (natural disasters . holidays . weather . etc) that may cause shipping postponements. While most packages will arrive on time . there may be circumstances and delays that our carriers may experience. For this reason . we do not guarantee the exact delivery time; delivery issue is the responsibility of the shipping company.
Please note that Shipping Time will take approximately 3-4 weeks.
RETURN POLICY
What is your return policy like?

We'd like to think that every customer leaves a happy customer (and we have good reason to!) but in the event that you don't . we offer 30-day money-back guarantee . no questions asked! Just our way of saying thank you for your trust! Simply send us an email at [email protected] and we will take care of it for you!