"Our Breakthrough All in One Travelling Bag Helps SolveYour Travel Headaches…"

All-in-One travel bag is perfect for trips short and long
Keep all of your suits and shirts crease and wrinkle-free
Save money on check-inluggage
Secure All Your Valuables and Moneywith Anti-Theft Pockets
Multi-Purpose pockets and sections . allwater-resistant
Use as a single shoulder . backpack . casual bag or a handbag
Available in both grey and black
Easily use ascarry-on luggage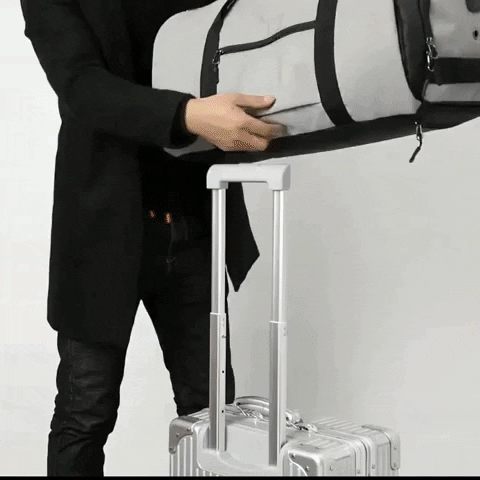 Make traveling easy and packing even easier. Keep your clothes wrinkle-free and organizedyour cosmetics spill-proof . and your souvenirs and documents safe with this All in One Travelling Bag??
Whether you'repacking for a business tripor for your family vacation . this water-resistanttravel bag is what you need.
Created with durable . lightweight . water-resistant materials .this travel bag has many multi-purpose pockets and compartments to keep your items secure.
Perfect Carry On Size: pack everything you need for your next trip in specially-designed multiple pockets and compartments –

the size is within airlines carry on standards -21in x 11.5in x 10.5in / 53cm x 29cm x 27cm

Stay Organized and Pack Efficiently: with multiple pockets for garments . passports . necktie . shoes . etc. its very easy to stay organized when you are traveling for a business trip or a holiday break
Stylishand Wear & Water-Resistant:

with its highly wear . water-resistant and stylish design you can stayclassy with a little bit of hood and a lot of universe in you

Keep YourShirts / SuitCrease & Wrinkle Free: thanks to the special inner suit compartment . your garments will arrive in perfectcondition
FEATURES . BENEFITS and SPECIFICATIONS:
Water-resistant . durable fabric
Multiple pockets and compartments
Inner suit / garmentcompartment
Multi-layer storage space
Perfect carry-onsize (below airline requirements)
Size: 21in x 11.5in x 10.5in / 53cm x 29cm x 27cm
Passport / documents pocket
Dedicated shoe compartment
4 different ways of use (single shoulder . backpack . handbag or a casual bag)
Trolley attachment belt
Weight: 2.86lbs / 1.3 kg
40-liter capacity
With the All in One Travelling Bag .you'll be traveling and packing like a pro in no time.
The only question is: where will you be heading to next?
---
A specifically-designed compartment for your suit.
Designed to prevent any wrinkles and creases on your suit.
Multiple Pockets and Compartments

Pack everything you need on your trip from clothes . belts . electronics . ties . stationery . and more.
Large Bag Opening
Pack fast and access your valuable fast. Travel through airport security fast and simple.
Side Pockets Designed for Documents and Stationery
Designed for your passport . stationery . notebooks . and tablets.
Hands-free Suite Case Strap
Modern andSlick Design with High-Quality Wear-Resistant Material
You won't need to buy another travel bag for years.
Perfect CabinLuggage (Carry On Size)
Take it with you onthe plane without worries.
Durable & Water-Resistant Fabric
High-quality fabric that will keep your valuables dry even when it rains or is spilled on.
The One Bag You Need For All Your Travels
A truly All-in-One Solution and the Most Multi-Functional Travel Bag on the market.