We say it is time to ditch those old cables as we introduce you the
STYLISH USB BRACELET.
Do you always forget your gadget cables? Do you find it as a struggle when you're in a hurry or in-the-go and you have to bring the long . tangled cable for your phone or tablets?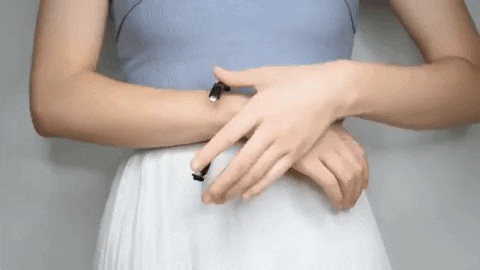 Stylish USB Bracelet is a FANCY and CLASSY BRACELET that is CONVERTIBLE to a CHARGING/DATA CABLE.

It is a CHARGE and SYNC CABLE in a DISGUISE of a BRAIDED LEATHER BRACELET that is SPECIALLY DESIGNED for you to be HANDS FREE from the LONG OLD CABLES and EXTRA CORDS.
It has a GOOD POWER SUPPLY . STABLE SIGNAL and FAST TRANSMISSION SPEED up to 480mbs as the CHARGING CORE is made of HIGH-QUALITY TIN-PLATED and OXYGEN-FREE COPPER CONDUCTOR.
Stylish USB Bracelet is made of HIGH-QUALITY SMOOTH LEATHER. It is WATERPROOF.


It is LIGHTWEIGHT making it COMFORTABLE to wear. It can WITHSTAND SCRATCHES and SCRAPES.


It is NOT PRONE to CRACK or PEELED. It has a SAFE and SECURE LOCK making sure it won't fall off.


It is made with FINE WORKMANSHIP that it is SKIN FRIENDLY and won't chafe your SKIN.
Product features:
The USB type C bracelet is made of high-quality smooth leather.
Two-group electric core and zinc alloy.

The PU braided leather is waterproof . soft . light-weight and supple.

This bracelet has

good waterproof performance &far durable.

Service life 2-3 times as long as normal data cable .

not easy to fade and fall off.
Accustomed to the weight of the metal bracelet and frost crack . choose a leather bracelet is a hipster essential choice.
Hyperbolic Ergonomic Design:Each bracelet charger using hypoid ergonomics design .very
BEAUTIFUL
and
COMFORTABLE
to wear
also have prefect seamless metal joint devise which make sure it TIGHT and
SAFE ENOUGH
when you wearing.
Fine workmanship .
It won't chafe your skin
. anytime and anywhere calls . fashionable and beautiful . compact and convenient.
Features:
Standard USB line . good power supply . stable signal .

fast transmission speed

The charging core is made of high quality tin-plated oxygen-free copper conductor. Gold-plated connectors provide excellent electrical conductivity . making

high-speed data transfer fast and accurate.

Provides ultra-fast data transfer rates of up to 480Mbps

.

FASHIONABLE 3-IN-1 FOR APPLE OWNERS:

Creative USB Charging Cable+Transmission Line + Classic Leather Bracelet . 3 in 1 . very easy to use and bring onEVERY OCCASIONS . PURE CONVENIENT . SIMPLE and FUN for EVERYONE!

High – speed sync and charger on your lighting device.

This bracelet lighting cable iscompatible with all apple devices . android devices . type-c devices . etc
Curved plug design .close to the thumb . a touch to know before and after . even at night can distinguish before and after .Easily plug or unplug.
Braided leather for comfort
Unique portable design
Fashionable and convenient
ThisLeather Bracelet USB Charging Cable for iPhone and Android is a great way to have a charging cable for your for iPhone . or any other smartphone with a USB or ever a USB type C without the hassle of carrying a long cable. Nowadays there are charging stations everywhere like malls . amusement parks . etc. PU leather is very durable and will last a long time.

It can withstand scratches and scrapes that would mar genuine leather. It is not prone to crack or peel like leather. This is why this bracelet is much more durable and long lasting.

Almost everywhere you go now there are USB charging stations. All you need is a cord! Airports . Malls . Restaruants. Now you will have a cord whereever you go. No more missing important text messages or phone calls because your phone is dead.
Specifications :
Length : 22cm approximately
Package Included:
Stylish USB Bracelet x 1pc