SLEEP MORE CLOSELY WITHOUT THE NUMBNESS!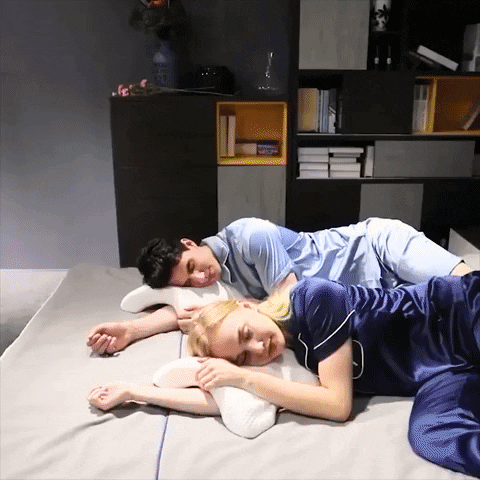 Do you always get numbed arms when you are sleeping with your loved one? All you need to fix that is ourZero Pressure Memory Foam Pillow!It is ahollowed design memory foam pillow that allows you to place your hand under the pillow comfortably.
Itsmade out of high-quality memory foam. Itmoulds your headas you laywhich puts less strain on your head and maximizes comfort.
ANTI-NUMB:Prevents your arm from going numb during sleep. This is the best thing especially for coupleswho are slide sleepers and would like to cuddle all night long.

PREMIUM MATERIAL:Made of washable premium ice silk and memory foam . environmental-friendly healthy and hygienic material.

MEMORYFOAM:Using your heat and body pressure it forms to your exact shape.Ittakes3-5 seconds slowly return to its original shape after every use.

SLOPE & HOLLOWED DESIGN:Whether you are sleeping alone or with a loved one . you will surely love this design.No more waking up to a numbed arm with our slope and hollow design. Now you can cuddle till you wake or just get that well-deserved rest.


"Wow! love this pillow! My sleep is absolutely restful now. Lower back pain reduces from day to day . my body is more relaxed and the quality of my sleep was definitely improved since I've started using this pillow." – Melissa . 45 . CUSTOMER
SPECIFICATIONS
Material: High-Quality Ice Slik (Fabric) . Memory Foam (Pillow)
Size: 36cm x 30cm x 13cm
PACKAGE INCLUDES
1 xZero Pressure Memory Foam Pillow
NOT SOLD IN STORES!
Please note that Shipping Time will take approximately 3-4 weeks.
SHIPPING INFO
How long will order processing take?

Orders typically take up to 7 days to process before they ship ?C excluding weekends and holidays. During the holidays . processing times may take up to 14 days. You will receive an email confirming your purchase with the shipping tracking number when your order is shipped out.
How long will it take for me to receive my item?

US orders will be shipped via USPS. Shipping methods for international orders will vary based on the shipping address provided.
Transit time to the US: 5-20 business days
Transit time to international: 10-45 business days
An order takes 3 weeks on average to ship.
There are circumstances that are out of control (natural disasters . holidays . weather . etc) that may cause shipping postponements. While most packages will arrive on time . there may be circumstances and delays that our carriers may experience. For this reason . we do not guarantee the exact delivery time; delivery issue is the responsibility of the shipping company.
Please note that Shipping Time will take approximately 3-4 weeks.
RETURN POLICY
What is your return policy like?

We'd like to think that every customer leaves a happy customer (and we have good reason to!) but in the event that you don't . we offer 30 day money-back guarantee . no questions asked! Just our way of saying thank you for your trust!